Butternut squash, fennel and basil risotto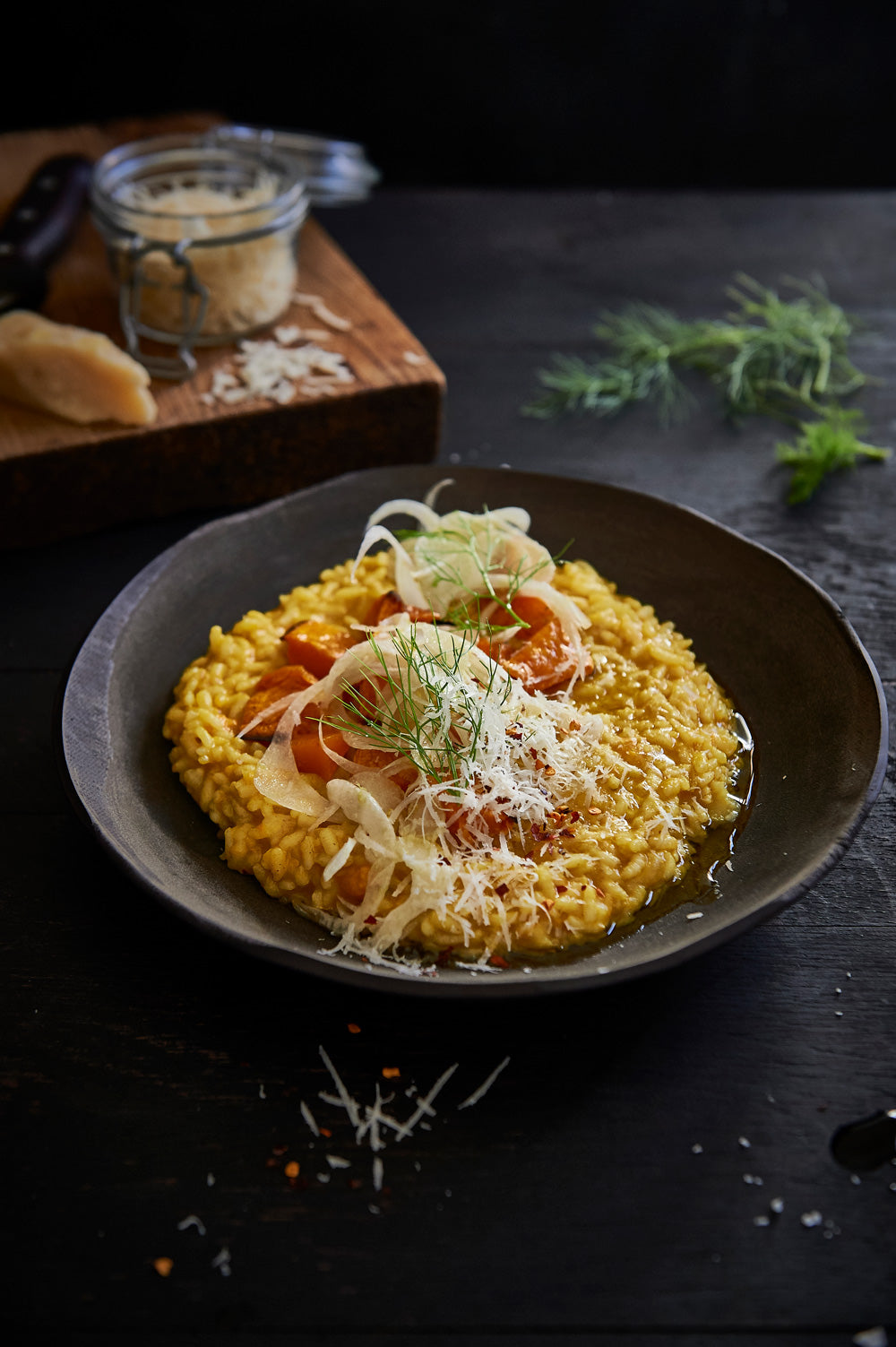 PREP TIME: 15 Minutes
COOK TIME: 30 Minutes
SERVES:4
Products Used
Ingredients
1 teaspoon fennel seeds
3 cups of butternut squash cubed, skin and seeds removed
1 tablespoon olive oil
2 tablespoon butter
1 onion, peeled, finely chopped or grated
2 cup of Arborio rice
1 cup Dry white wine
5 cups boiling chicken stock or lightly salted water (you should be able to taste the salt in the water with out it being too salty)
1 small bulb of fennel thinly shaved/sliced
½ cup grated Parmesan cheese
1 cup fresh basil leaves
Salt
Pepper
½ teaspoon chili flakes (optional)
Extra virgin olive oil for serving
Methodology
Place butternut squash cubes onto a lined sheet pan, douse with the olive oil, fennel seeds and a sprinkling of salt. Cook in an oven set at 350F for 10 – 15 minutes or until golden and soft, remove and set aside
Meanwhile, heat olive oil and half of the butter in the base of Crux skillet to set to medium heat
Add in the onion and cook till soft and translucent.
Add in the rice, stirring to coat in oil and butter, you will notice that it starts to crackle a little to which point you can add in the wine, stir till all liquid has been absorbed. (Approximately 2-3 minutes)
Lower the heat, begin adding in the stock, a ¼ at a time, allowing for the rice to absorb slowly, continue cooking till all liquid has absorbed and rice has plumped and is cooked through, approximately 15 – 18 minutes.
After this time, turn heat off; add in the cubes of squash, remaining butter and cheese. Mix well so the squash starts to break up into the risotto, Fold through the shaved fennel and basil.
Taste for seasoning, will need a good grinding of pepper and a small amount of salt, depending on your taste.
Serve with chili flakes and Extra virgin olive oil